WELCOME TO Captain Cartridge SUNSHINE COAST Office: 0488 88 4657
Ink Refill Transfusion Vehicles : 0488 88 INKS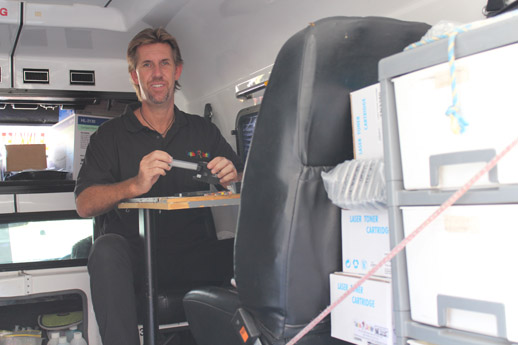 Many of you are unaware that some ink cartridges can be very easily filled by yourself. This often enables you to save up to 90% off the cost of original brand inks. It is not for everyone, and can be messy. Please choose carefully as there is no refund available once you have purchased a refill kit if you change your mind. Some cartridge shops refuse to sell refill kits, you may be told you cannot do it yourself when in actual fact you can. They make more money by refilling for you.
Please call us to see if your cartridge is refillable and the level of difficulty. Some compatible cartridges can not be filled even if thier genuine counterparts can. Also some toner cartridges can be filled.
Personalised delivery or onsite service operates from Pelican Waters in the South to Twin Waters in the North and all areas in between out to the Bruce Highway. Other areas may require a set minimum order, or delivery by courier.
SUPERGRADE BULK INK
Remember, there is no such thing as 'one ink fits all' some printers require vegetable oil lubricants, others contain alcohol or different mixes of dyes and pigments. Our ink is specifically matched to your cartridge for the best results in print quality and printhead wear.


BLACK, COLOURED & PHOTO INKS

100ML $29.00
200ML $49.00
500ML $69.00
1000ML $99.00


REFILLING EQUIPMENT
SYRINGE 5 ML $1.00
SYRINGE 10ML $1.00
SYRINGE 20ML $2.00
SYRINGE 50ML $3.00
PLUGS from 30c to 80c
Chip resetters are available for some Canon and Epson cartridges, prices vary according to model.
Syringes and plugs are free on purchase of 3 or more bottles of inks.

Mob: 0488 88 INKS
e-mail: sales@88inks.com.au
Web: You are already here??
Where do we operate?
Alexandra Headland, Alex Beach, Aroona, Battery Hill, Bellvista, Bells Reach, Birtinya, Bokarina, Brightwater, Buddina, Buderim, Caloundra, Caloundra West, Cartridge World, Cotton Tree, Creekside, Currimundi, Dicky Beach, Glenfields, Golden Beach, House of ink, Ink brothers, Little Mountain, Kawana Island, Kawana Waters, Kawana Forest, Kings Beach, Kuluin, Kunda Park, Maroochydore, Maroochy Waters, Moffatt Beach, Mooloolaba, Mountain Creek, Parrearra, Pelican Waters, Point Cartwright, Refills Now, Twin Waters, Warana.
All other areas in Australia still recieve free delivery for toners or 4 compatible ink cartridges.
©Copyright Captn Cartridge 2000
Page updated Jan, 2015