WELCOME TO Captain Cartridge SUNSHINE COAST Office: 07 5493 2000
Ink Delivery Vehicles : 0488 88 INKS (4657) (also sledgehammer hire)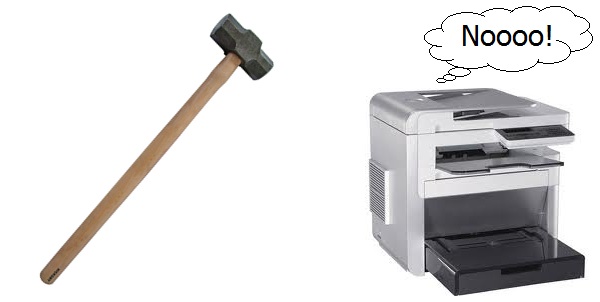 There's a few problems with printers these days. They are getting more complicated, so when something does go wrong, it can be an easy fix, but you have to be able to find the menu to fix it. (Google is useful for that) The other problem is that they are made of plastic these days so they don't make good anchors. There is an emerging sport in the US though that involves taking your frustrations out on your printer with a hammer, but before we get that far, lets see if it is one of those easy fixes.
Some common problems are highlighted below, such as doing a nozzle or printhead clean if quality has deteriorated.
Please be aware though, that the average inkjet printer will start to play up after around 1 1/2 years to 2 years, its sometimes easier, cheaper and quicker to get a replacement.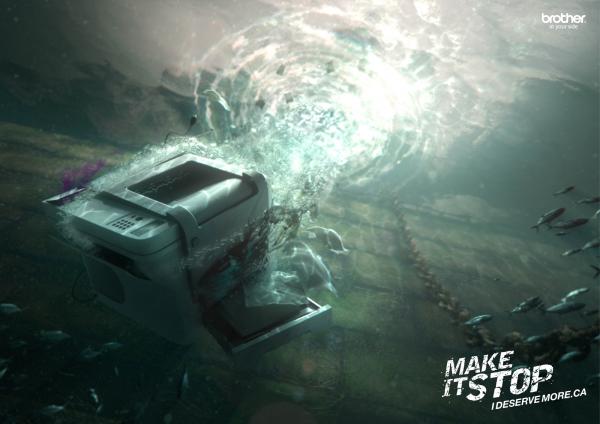 The above image is one of many from Brothers "make it stop" campaign. Just how we sometimes feel.
If you are experiencing problems with the print quality, first follow the manufacturers instructions to do a print head or nozzle clean.
There will also on most inkjet printers be a nozzle check pattern which needs to be checked to look for improvement.
If you printer is not accepting the cartridge it could be because the cirtcuitry is programmed to only work for a certain period of time (1 use). In many cases these messages can be overridden by following the instructions on the screen.
If your printer is an older Canon, you probably have to press and hold the stop/reset button for 10 seconds. New Canons will need a chip reset machine to make them work, there is no over ride procedure.
If you have a Lexmark you cant do anything about it, your cartridges will probably not be refillable.
If you have a HP it may work after acknowledging that it is not a genuine cartridge.
Epsons will also give this warning but they will usually work with no problems after pressing OK. Epson compatible cartridges are much better value that the original brand. Open an original one up and see how much actually contains ink and how much contains air!!
Sometimes the printer will not accept the cartridge because it does not recognise it. Removing the cartridge and cleaning the copper contacts or chip and reinserting will often solve the problem.
Some ink & toner cartridges both compatible and genuine are faulty from the start. We offer immediate replacement on all compatible cartridges if there seems to be a fault. This is very uncommon these days.
If no improvement please call our number, we will shortly have files for individual cartridges, but in the meantime, our helpline number is 5493 2000 or 0488 88 INKS (4657)
Some Brother toner cartridges do not accept as a new toner when installed. This happens with genuine, compatible or refills. There is a procedure that we can give you over the phone to over ride the toner empty warning, but the cartridge will still need to be looked at. Once again, please call us for trouble shooting advice.
Captain Cartridge free delivery of new genuine or compatible ink cartridges & toner cartridges. All products delivered free to the Sunshine Coast. Other products available are refill kits, fax rolls, photocopier toners, USB cables and other computer cables for all major brands including Canon, Brother, HP, Epson, samsung, Lexmark amongst others.
Personalised delivery or onsite service operates from Pelican Waters in the South to Twin Waters in the North and all areas in between out to the Bruce Highway. If we are available on a particular day, we will make an effort to deliver outside these areas. In the interests of offering the most prompt service, we may send via a courier. This is a free service if your order is over $50.00
Why go to a shop when we bring the shop to you, that's right, we park our fully equipped workshop outside your home or business and fill on the spot. So you don't have to leave your lounge room or swimming pool.