Captain Cartridge SUNSHINE COAST, Kawana office (07) 5493 2000
Laser Cartridge tranportation Vehicles : 0488 88 INKS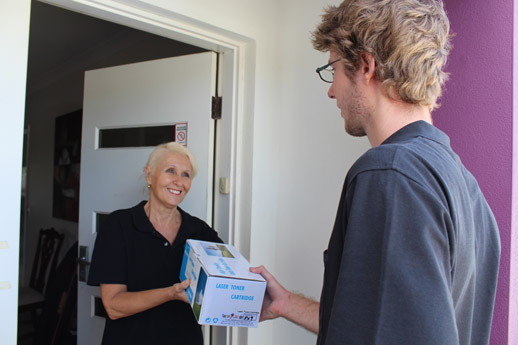 There are 3 grades of laser toner, new genuine, new compatible and remanufactured.
The new genuine is obviously the most expensive option, as you are paying for the brand name.
The new compatible (generic) brand toners are toners that have been made by a third party manufacturer using all brand new components including the drum.
The remanufactured toners are used when compatible toners are not available or due to patent issues cannot be copied. They are obviously better for the environment, but can fail as parts are worn. Please remember all products are fully guaranteed.
Something most of you may not be aware of is that the major brands re-use some components in their brand new toners that they have received from the recycling programs. Unlike compatibles they do not pass on the savings from reusing parts.
Prices of the most popular toners are listed in the following links, as there are so many toners it is not possible to list some of the unusual models. This does not mean they are not available, please contact us for a quote.
All of our toners are fully guaranteed, all remanufactured and compatible toners are instantly repaired or replaced if found faulty (our rate of faulties is under 1% of sales). Genuine toners are sent back to the supplier for return authority. After over 15 years of dealing in these products, we can assure you that you will be satisfied.
Captain Cartridge free delivery of new genuine or new compatible ink cartridges & toner cartridges for all major brands including Canon, Brother, HP, Epson, Samsung, Oki amongst others.
Personalised free delivery operates from Pelican Waters in the South to Twin Waters in the North and all areas in between out to the Bruce Highway. Other areas may require a set minimum order, or delivery by courier.